Becoming an IT manager is certainly a smart career move. According to the U.S. Bureau of Labor Statistics (BLS), demand for computer and information systems managers will grow 12 percent–faster than average for all other jobs–over the next decade as firms increasingly expand their business to digital platforms. In this post, we'll delve into what IT managers do, how much they make, and whether it'd be a good career move for you.
What Do IT Managers Do?
IT managers help guide the technological direction of their organizations by doing tasks such as constructing business plans, overseeing network security, and directing online operations. IT managers may plan and coordinate larger projects, such as installing and upgrading hardware and software, programming and systems design, and implementation of websites.
Another big part of their daily responsibilities usually is directing the work of other IT employees, such as systems analysts, software developers, and support specialists. In larger organizations, they might also report up to the CIO.
Their other extremely important task? Helping the organization stay up to date. From the CIO article "IT leaders, get ready for 2018":
"This is, in essence, the top responsibility of today's technology leaders – navigating the waters of change, separating reality from hype, and understanding not only what digital technologies their organizations should use, but how to implement multiple disruptive technologies holistically and get the most out of them."

UW Applied Computing Degree GuideGet Guide
Download a four-page overview of the UW Applied Computing bachelor's degree program, including information on courses, careers, and tuition.
What Is an IT Manager's Salary?
According to Glassdoor, the national average salary for an IT manager is $97,792. BLS reported a higher salary of $135,800 for computer and information systems managers in 2016. (Note that BLS includes high-level management positions such as chief information officer and chief technology officer in this group.)
Where Do IT Manager's Work?
According to 2016 data from BLS, the largest employers of computer and information systems managers were:
Computer systems design and related services (22 percent of IT managers work for these organizations)

Information (11 percent)

Finance and insurance (11 percent)

Management of companies and enterprises (10 percent)

Manufacturing (8 percent)
A search for "IT manager" on Indeed.com results in over 90,000 job listings nationwide. In spring 2018, Boeing, University of Minnesota, UnitedHealth Group, Marriott, Wells Fargo, Amazon, CUNA Mutual, the Chicago Bears, Kraft Heinz Company, Aurora Health Care, and many more organizations were hiring IT managers.
Would You Make a Good IT Manager?
It's recommended that you have at least five years of experience in a related job, such as software developer, business analyst, or network administrator, before becoming an IT manager. You should also have at least a bachelor's degree. According to a 2018 Emsi analysis of job postings, 70 percent of IT manager jobs require a bachelor's or master's degree.
To be an IT manager, you need specific skills or abilities, including:
Technical and functional expertise

An advanced understanding of business

A history of achieving results

Decision-making and leadership ability

Interpersonal and communication skills
Overall, IT managers should be analytical, detail-oriented, and decisive professionals with strong people management skills. Their fast-paced and process-driven work demands it. The best candidates have both a technical and business background, because they need to understand their organization's goals on a deep level. This understanding allows them to problem solve quickly and implement strategic plans for the team they oversee. Also, it's crucial that IT managers can translate business lingo and software-speak between technical and non-technical groups and give clear instructions to the employees they manage. That means strong communication skills are a must.
From CIO:
"This bigger picture approach to technology demands industry vision and superior communications skills to drive IT into the heart of the corporate mission."
Are you thinking you may need to hone some of these skills? Not to worry. You can do so through on-the-job experience and education.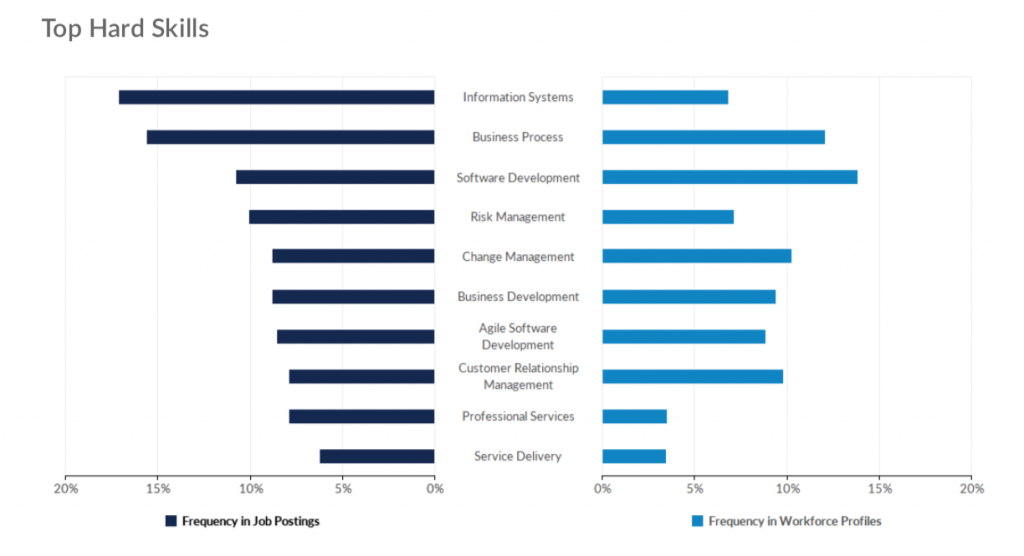 Get the Skills You Need for IT Management in One Degree
If IT manager is the job path for you, consider the online Applied Computing bachelor's degree completion program from University of Wisconsin. The 61-credit curriculum teaches you the computer science, business, and professional skills and knowledge that today's IT leaders must have. See the full curriculum here. Or, read more about how to become an IT manager.
Read More
Why You Should Major in Applied Computer Science vs. Computer Science
Computer Science Jobs and Career Outlook