If you want to be a software developer, a computer science bachelor's degree will make you stand out to employers. Software developers in the field recommend completing a curriculum that emphasizes "soft" skills in addition to technical knowledge of tools, algorithms, and data structures. Also, choose a degree program with a built-in internship or work experience, because employers look for candidates who have real-life experience with software development projects.
Why Software Development?
Software development was named the best job of 2018 by U.S. News & World Report. Why? There are three main reasons: Software developers enjoy their work, are in high demand, and earn generous salaries.
Developers play a crucial role on IT teams. They are behind many of the applications that make the digital world run. They often describe their work as an opportunity to turn ideas into something they can practice and play with and, ultimately, build exciting and novel tech. There are three types of software developers:
Front-end developers, who make the things that users see and interact with on websites or web applications

Back-end developers, who sort through the data access layer of a piece of software

Full-stack developers, who do both
The U.S. Bureau of Labor Statistics predicts that employment of all types of software developers will grow 24 percent from 2016 to 2026. These days, you'd be hard-pressed to find an organization that isn't hiring software developers. A quick job search reveals that Facebook, Epic, Boeing, CUNA Mutual, Nordstrom, Squarespace, Sony, Twitter, GE, Google, FedEx, Groupon, IBM, and Amazon are all hiring for these positions.
And the pay? The average software developer salary is around $100,000.
UW Applied Computing Degree GuideGet Guide
Download a four-page overview of the UW Applied Computing bachelor's degree program, including information on courses, careers, and tuition.
Do I Need a Degree to Become a Software Developer?
It's recommended, and here's why. Many developers currently in the workforce already have a degree. In 2017, Stack Overflow published a survey of 64,000 developers. It revealed that 48 percent of professional developers had a bachelor's degree, and 76 percent had a bachelor's degree or higher.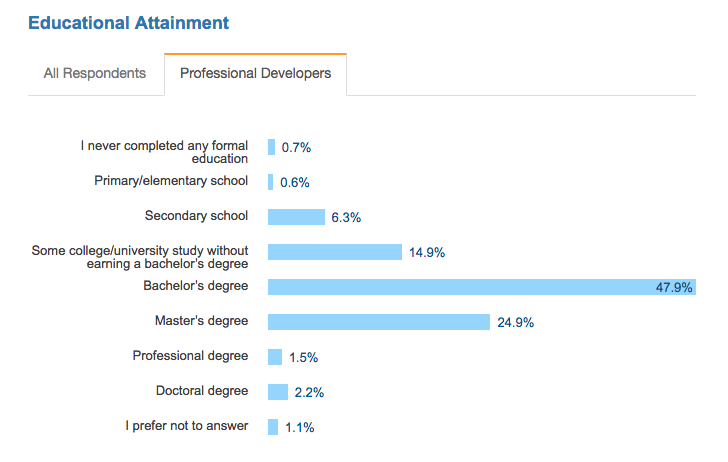 Source: Stack Overflow Developer Survey 2017
Some people have and still do get into software development without having a degree. But interviews with tech recruiters reveal that a college degree will definitely help you. According to TechWorm, "When recruiters compare resumes for potential candidates, a CS degree will certainly set you apart [and] the reputation of the college itself will be scrutinized."
What Type of Degree Is Best for Software Developers?
A computer science or software engineering major
According to a recent Time article, "Most developers get a bachelor's degree in a computer science field, learning the basics of programming while devoting their free time to testing it out." The Stack Overflow study also found that computer science and software engineering were the most popular undergraduate majors among developers. More than 50 percent of degree-holders had either a computer science or software engineering degree.
A program offered online
From the same Stack Overflow study, nearly 65 percent of developers said they recommend learning software development through online courses—more than textbooks, evening courses, bootcamps, and any other method.  
A curriculum that emphasizes communication and other "soft" skills
Inside Higher Ed found that hiring managers and directors of software developers "reiterated the importance of teamwork, clear communication and timelines—so called 'soft' skills." The core curricula of computer science programs do not always emphasize soft skills. But developers consider communication skills and the ability to get things done as their two most important attributes, even more than knowledge of algorithms and data structures.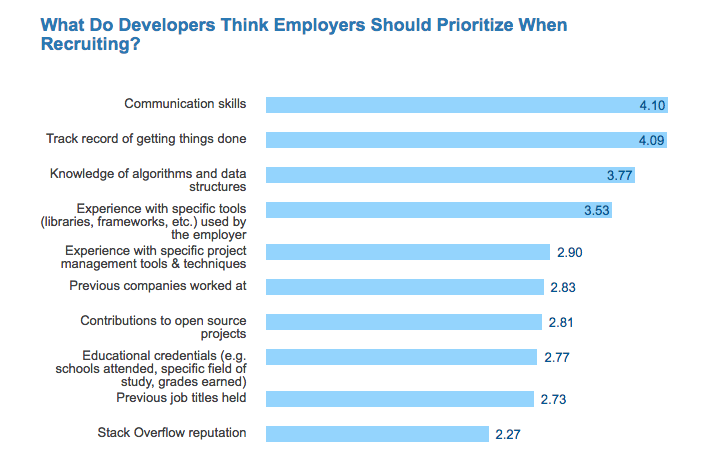 Source: Stack Overflow Developer Survey 2017
A built-in internship or other hands-on work experience
Many degree programs don't require a hands-on experience such as an internship, work in a professor's lab, or participation in hackathons—all things that tech companies look for on a developer's resume. However, according to the Center for American Progress, "most high-paying jobs in technology… require hands-on development experience, knowledge of software development processes, and previous internship or work experience." Students without this experience are at a disadvantage when applying for jobs.
The Applied Computer Science Degree Designed for You
University of Wisconsin created the Bachelor of Science in Applied Computing to fit the needs of aspiring software developers and other IT professionals. It's an online bachelor's degree completion program, which means you can earn your degree from the comfort of your home in as little as two years. You'll graduate from one of five respected UW campuses. And the 21-course curriculum, designed and taught by UW faculty, is a computer science curriculum that emphasizes communication, strategic thinking, project management, and other desired soft skills.
Plus, the final capstone course gives you the opportunity to put your software development skills to the test. You can design a project tailored to your own interests and complete it at a real workplace, alongside talented software developers. This not only gives you hands-on experience, but also networking opportunities, job references, and a potential job offer.
Take the Next Step
Start here to explore the UW Applied Computing degree program. Or talk with someone directly by contacting an enrollment adviser at 1-877-895-3276 or learn@uwex.edu.