With a computer science bachelor's degree, you are qualified for a wide range of computer science jobs such as applications developer, web designer, software engineer, and video game designer. And the outlook for these computing jobs is very bright. Why? Right now, the demand for computing professionals far exceeds the supply. Plus, technology evolves every day, meaning more and more computer science jobs will be created. For today's computer science students, it won't be a matter of finding a job after graduation, but rather, which job to accept when several offers come their way.
List of Computer Science Jobs
What can you do with a computer science degree? Put simply, you can fill a variety of IT positions. Typical jobs held by computer science graduates include the following:
Network and computer systems administrator. Installs, configures, and supports an organization's local area network, wide area network, and internet systems. May also monitor network and website performance to ensure availability and operability to all system users. Administrators can also supervise user support specialists and computer network support specialists.
Median 2016 salary: $79,700
Projected growth between 2014-2024: 5-8%
Application developer. Develops, creates, and modifies general computer applications or specialized utility programs. Optimizes operational efficiency by analyzing user needs and developing software solutions to meet those needs. May also analyze and design databases within an application area and supervise computer programmers.
Median 2016 salary: $100,080
Projected growth between 2014-2024: 14% or higher
Web developer / web designer. Designs, creates, and modifies website content, graphics, performance, and capacity. May also integrate websites with other computer applications.  
Median 2016 salary: $66,130
Projected growth between 2014-2024: 14% or higher
Software developer / software engineer. Researches, designs, develops, and tests operating systems-level software, compilers, and network distribution software. Sets operational specifications and formulates and analyzes software requirements.
Median 2016 salary: $106,860
Projected growth between 2014-2024: 9-13%
Computer and information systems manager. Plans, directs, or coordinates activities in fields such as electronic data processing, information systems, systems analysis, and computer programming.
Median 2016 salary: $135,800
Projected growth between 2014-2024: 14% or higher
Video game designer. Designs core features of video games, including game and role-play mechanics, storylines, and character biographies. May also create and maintain design documentation and collaborate with production staff to produce games.
Median 2016 salary: $86,510
Projected growth between 2014-2024: 2-4%
Systems engineer / systems architect. Design and develop solutions to complex applications problems, system administration issues, or network concerns. May also perform systems management and integration functions.
Median 2016 salary: $86,510
Projected growth between 2014-2024: 2-4%
Information security analyst. Plans, implements, and monitors security measures that protect computer networks, digital files, and electronic infrastructure. May respond to security breaches and viruses.
Median 2016 salary: $92,600
Projected growth between 2014-2024: 14% or higher
Business analyst. Produces financial and market intelligence by analyzing data repositories and generating reports. Also devises methods for identifying data patterns and trends in information.
Median 2016 salary: $86,510
Projected growth between 2014-2024: 2-4%

Computer Science Job Outlook
The job outlook for computer science majors is bright. According to USA Today, "New computer science graduates often have their pick of opportunities as recruiters struggle to fill positions in the industry."
The reason is, there are not enough qualified candidates to fill available job openings.
In 2016, Code.org and the Computer Science Education Coalition published an open letter saying that there are over 500,000 computing job openings in all sectors, yet only 50,000 computer science students graduate per year.

Over the next decade, more and more IT positions will be created. The U.S. Bureau of Labor Statistics reports that computer and information technology is one of the fastest growing fields in the country. Between 2014 and 2024, projected job openings for computer occupations far exceed openings for engineers and all other STEM occupations.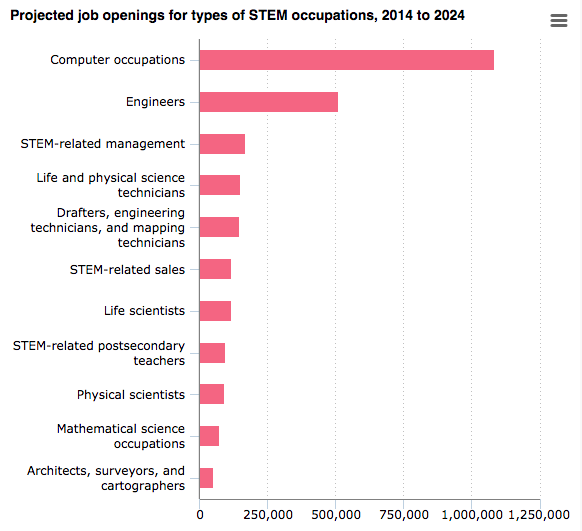 Where Computer Science Majors Work
Because of the array of job titles, as well as the widespread reliance on the internet and the Internet of Things, computer science professionals will find opportunity in every sector, including manufacturing, education, banking, retail, government, agriculture, and healthcare.
In a recent survey, computer science students were asked which organization they most wanted to work for after graduation. The top 15 organizations illustrate the breadth of opportunity for IT professionals:
Google

Microsoft

Apple

Facebook

Amazon

Blizzard Entertainment

Walt Disney Company

NASA

The Federal Bureau of Investigation

Tesla

SpaceX

Central Intelligence Agency

National Security Agency

Riot Games

Intel
And who actually hires the most computer science professionals nationwide? In 2014, the employers with the most job postings were Amazon, Accenture, JP Morgan Chase Company, and UnitedHealth Group.
In the Midwest, employers with the most computer science job postings in 2014 were UnitedHealth Group, General Electric Company, and Accenture.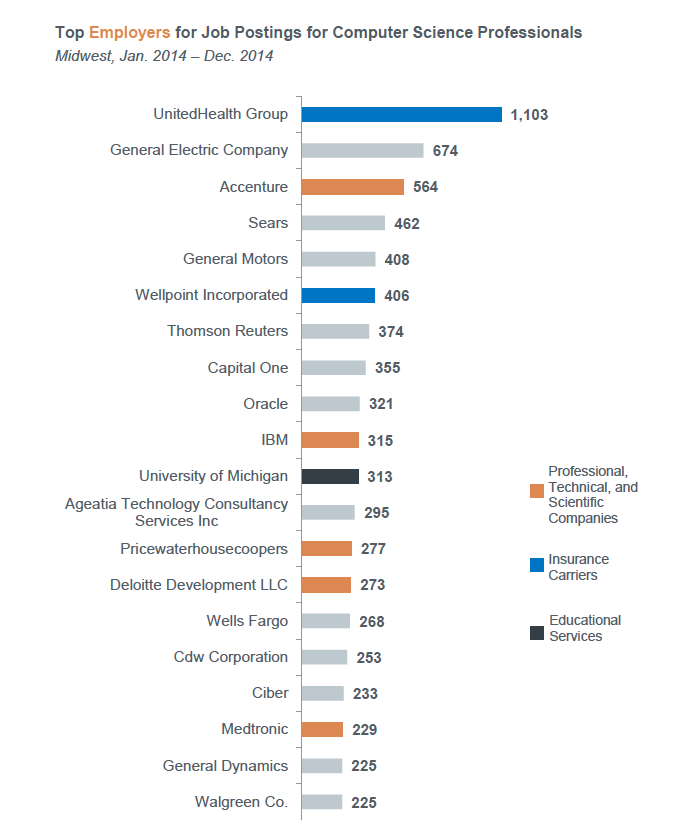 How to Prepare for Computer Science Jobs
Most of the computer science jobs listed on this page require a bachelor's degree. Plus, more employers not only expect IT staff to have technical four-year degrees but also seek candidates with skills in workplace communication, business operations, project management, strategic thinking, and other advanced capabilities.
The University of Wisconsin offers an online, 61-credit Bachelor of Science in Applied Computing. This well-rounded applied education teaches the technical IT skills you need to succeed in many computer science positions, plus business skills that will help you advance your career.
—
What's next?
Discover
What's the difference between computer science and applied computer science? Click here to find out.

Explore
Curious about what you'll learn in UW Applied Computing courses? See the curriculum.

Ask
Have questions about the online, 61-credit University of Wisconsin Bachelor of Science in Applied Computing? Contact an adviser at 1-877-895-3276 or learn@uwex.edu.